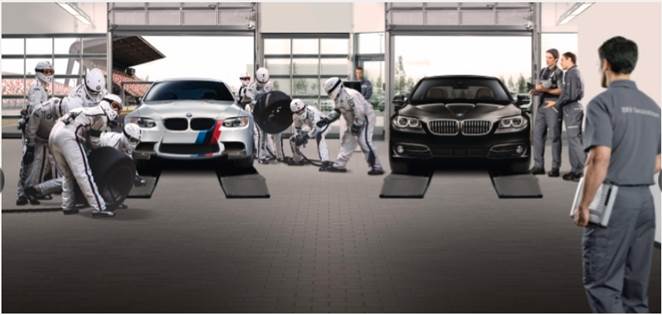 OUR RACE EXPERIENCE.
YOUR PERSONAL PIT CREW.
BMW FASTSERVICE®
After decades of racing, you learn that every second counts. Introducing BMW FastService, designed to make quick work of needs such as oil service, brake pad changes, and tire replacement. Expert service in an hour or less. Dedicated work bays manned by BMW Trained Technicians. 100% Original BMW Parts.  Our racing heritage meets your need for speed.
Contact us to learn more or schedule an appointment
.
THE FASTSERVICE MENU:
▪ Oil Service
▪ Air Filter and Microfilter Check and Replacement
▪ Front and Rear Brake Pad Change
▪ Halogen Light Bulb Replacement (Non-Xenon, Non-Laser)
▪ Individual Tire Replacement
▪ Wiper Blade Replacement
▪ Brake Fluid Flush
BMW FastService available only at participating BMW Centers.